Provence Residence EC
Provence Residence EC is a new EC located in Canberra link developed by MCC sited at the district 27, launching soon in 2Q 2021. The Canberra Link parcel, which spans 16,690 sqm/ 179,651 sqft in area, can accommodate up to 413 residential units. It has a maximum gross floor area of 41,457.96 sqm .  MCC won the land bid with their offer of S$271 million, or S$566 per square foot per plot ratio, contested by 8 developers.
Provence Target Preview
24 April to 10 May 2021
Price Release 10 – 11 May 2021
Booking on 1 May 2021
Provence Residence EC has a total of 413 units, consists of 5 blocks of 13-storey and 4 blocks of 11 storey comprise of 3 and 4 bedroom. It has a basement carpark and full condo facility. Provence Residence residents take about 5-minute walk to Canberra MRT.
Nearby amenities, eateries, entertainment and shopping malls are conveniently located minutes walk away. Provence Residence Residents will enjoy the convenience Canberra Plaza, a newly mall with many shops, a supermarket, a food court, childcare centre and education centre etc.
With a tenure of 99 years commencing from 10 December 2019, the Temporary Occupation Permit (TOP) is estimated to be ready by 10 April 2025.
Information at a glance
| | |
| --- | --- |
| Name of property | Provence Residence EC |
| Address | Canberra Link |
| Property developers | MCC |
| District | 27 |
| Tenure | 99 years from 10 June 2020 |
| Site area | 16,690 sqm |
| Number of available units | 413 |
| Number of storeys | 11 to 13 storeys |
| Number of car park lots | 413 |
Provence Residences EC location
Why should you choose to stay at the Provence Residence EC?
1. Accessibility to public transports
Train stations
As we've stated earlier, Provence Residence EC is situated 500m walk to Canberra MRT. From Canberra MRT station, you will be five train stops to Bishan Interchange, where you can access the Circle Line to get to the train stops with the Downtown Line and North-East Line.
You will also be three stops away to Woodlands MRT station, where the long-awaited Thomson-East Coast Line is currently being constructed. By 2024, getting from the North to the East side of Singapore will be a walk in the park.
By staying at Provence Residence EC, you will get to benefit from the new rail line developments!
Bus services
The bus stops near Provence Residence EC, specifically along Canberra Link and Sembawang Road have these buses servicing the area – 169, 169A, 117, and 883.
Bus 169 operates in two directions, from Woodlands Temporary Interchange to Ang Mo Kio Interchange and vice versa. If you take bus 169 from the bus stop right outside the condominium, you will be able to get to Yishun MRT station, Mayflower Secondary School, and Ang Mo Kio Primary School.
2. Bukit Canberra
Bukit Canberra is a only diagonally across from Provence Residence EC. At this integrated hub, residents can look forward to facilities like an indoor sports hall, a hawker centre, and a polyclinic, a senior care centre, green spaces for community farming and lifestyle related amenities for the community within a lush and naturalistic environment. From the first half of 2020, Provence Residence residents will have a uniquely integrated sport and community hub, which is to be opened in phases. .
Bukit Canberra is shaped around the existing terrain, highlights the hilly characteristics and lush vegetation and be integrated with the various facilities to enhance the existing greenery and biodiversity, thereby allowing users to enjoy the hub's features in a natural setting while at the same time bringing them closer to flora and fauna.
In line with the existing vegetation on site, a forest buffer around the periphery of Bukit Canberra will be conserved. It will be planted up progressively to help it mature into a tropical secondary rainforest with thriving biodiversity, and complement the surrounding National Parks Nature Ways in terms of species. Running trails of varying difficulty will pass through different landscapes throughout the hub, providing a range of experiences. The Fruit Orchard and Food Forest will showcase a variety of fruit trees and food plants, and the community will be able to grow their own plants in the community gardens.
Please click here for more info on Bukit Canberra
3. North South Corridor
Provence Residence residents will enjoy the benefit of The North South Corridor (NSC) which is Singapore's longest Transit Priority Corridor, featuring dedicated bus lanes, cycling trunk routes and pedestrian paths, to serve public bus commuters, active mobility users and pedestrians. Once completed, it will directly connect the Northern region and the city centre. The North–South Corridor spanning 21.5 km, connects the city to the northern region is now targeted to be completed by 2026
The corridor will also alleviate traffic on the CTE and major arterial roads such as Thomson and Marymount Road.
Designed to support our car-lite vision, the corridor provides a refreshing commuting experience for bus commuters. With dedicated and continuous bus lanes coupled with bus priority signals, bus commuters will be expected to save an average of 10 to 15 minutes of travel time.
Active mobility users and pedestrians will also benefit from NSC, through the cycling trunk routes and pedestrian paths. These will link with the Park Connector Network and local cycling paths within HDB towns along the entire corridor, enhancing connectivity for active mobility users and pedestrians.
For more info, please refer here.
4. Grocery, shopping and services
Provence Residence EC residents can either walk to Canberra Plaza, Sun Plaza or Sembawang Shopping Centre. If looking for 24 hour supermarket, there is one sheng siong within 3 min walk.
Sembawang Shopping Centre is about 15-minute walk away. Giant Hypermarket located at basement one of the mall will be a good place for groceries. Some of the fashion brands you can find are Brands Outlet by TFSS, Bata, Cotton On, and Sorella. There are also several hair service providers such as Alan & Guys, Kcuts, and Myeongdong Hair Studio. You will also be able to stock up on pet suppliers at Pet Lovers Centre and visit the private clinic for your healthcare needs.
Sun Plaza is 10 min walk for Provence Residence EC residents and they can find NTUC Fairprice,  Watsons, Eu Yan Sang, and Miniso can be located in the mall. Sembawang Public Library is at level five.
Or you can consider taking a bus to Northpoint City, a shopping mall located at Yishun MRT station. Alternatively, a 7-minute drive from Provence Residence EC will get you there. Northpoint City has fashion brands like G2000, Levi's, and Uniqlo. There's also a baby spa, Singapore Post, and various medical clinics.
5. Food options
Provence Residence EC residents will find Food Village 115 at 115 Canberra Walk and Food Paradise at 120 Canberra Crescent and also newly open cafe and food court in Canberra Plaza.
Provence Residence EC residents can get affordable western cuisine at Astons Specialities, BBQ and steamboat at Teng Sheng Korean BBQ, and your sweet bubble milk tea at LiHo. There are also bakeries like Polar Puffs & Cakes and PrimaDéli which can be found in Sembawang shopping Centre.
Make a trip to Sun Plaza if you want some Pontian Wanton Noodles, Toast Box, and Swensens. For fast food options, there's McDonald's and KFC. You can head to Kopitiam at level three for a wider range of cuisines!
There are many choices for food if u were to take a train down to Yishun, which is 1 stop away from Provence Residence EC. U can find Ban Heng Teochew Porridge, Big Fish Small Fish, and Central Hong Kong Café. You can also get your freshly-baked cookies from Famous Amos, burgers at Fatboy's The Burger Bar, and icy-cold ice-cream at Gelãre etc.
Provence Residence EC residents can consider taking a bus to Chong Pang City Wet Market & Food Centre at 105 Yishun Ring Road. It will take about 20 minutes by bus
6. Schools and education centres nearby
For parents, we know how important it is to get your children enrolled in schools that are not just good, but also nearby your area of residence. Hence, we believe you will find this compilation of schools very useful. We will look at preschools and progressively view our way up to higher education institutes.
Schools
List of preschools within 1.5km from Provence Residence EC :
E-Bridge Pre-School

PCF Sparkletots Preschool at 105 Canberra Street

Kindergarten @ Heritage

Global Tots Preschool – Admiralty

PCF Sparkletots Preschool at 504A Montreal Drive

MY World @ Canberra

Edelweiss Kindergarten Sembawang Presbyterian Church

Frobel Preschool

Skool4Kidz Preschool
Primary schools within a 2.5km radius from the property:
Sembawang Primary School

Wellington Primary School

Canberra Primary School

Endeavour Primary School

Northoaks Primary School

Chongfu School

Xishan Primary School

Peixin Primary School

Ahmad Ibrahim Primary School
Secondary schools within 3km:
Canberra Secondary School

Sembawang Secondary School

Ahmad Ibrahim Secondary School

Northland Secondary School

Yishun Town Secondary School

Yishun Secondary School
Junior colleges within a 20-minute drive away:
Yishun Innova Junior College

Anderson Serangoon Junior College
The nearest polytechnics within a 30-minute drive are Republic Polytechnic, Nanyang Polytechnic, Temasek Polytechnic, and Ngee Ann Polytechnic.
Singapore Institute of Technology (SIT@RP, SIT@TP & SIT@NP), Singapore University of Technology and Design, Singapore University of Social Sciences, Singapore Management University, and Nanyang Technological University are also within a 30-minute drive from the condominium.
Education centers
There are already diverse options available at Sembawang Shopping Centre and since it's so near to Provence Residence EC, take a look at this list you can consider from:
D'Growing Hands
GlobalArt Sembawang
Heguru
Nanyang Educational Consultancy
Xian Dai Education Centre (Chinese language)
Yamaha Music
Raiders Martial Arts Studio (coming soon!)
The Dance Station (coming soon!)
7. Nature and leisure
There are a couple of smaller neighbourhood parks to go to if you don't want to stay within the boundaries of Provence Residence EC. These parks are within a 1.5km radius:
Montreal Green

Jalan Sendudok Park

Legundi Park
For a wider space of greenery, you can head to Yishun Neighbourhood Park, which is a 20-minute walk away or Sembawang Park, a 4-minute drive away from the property. At Sembawang Park, you can have the kids spend some playtime at the maritime-themed playground, feel the sand in between your feet at the seaside, or have a barbecue session with your friends and family members.
Or head to Sembawang Hot Spring Park along Gambas Avenue, a 4-minute drive from Provence Residence EC. We heard that park-goers frequently have their eggs cooked boiled-style in the hot spring so bring your buckets if you're interested to experience the fun!
There's also a local eatery on-site to feed your empty stomachs – Sembawang Eating House.
Draft Master Plan for Sembawang (2019)
A master plan is a guide that strategizes the development of land and property in a specific area at least for the next 10 years. The Urban Redevelopment Authority (URA) has announced the draft master plan specifically for Sembawang in 2019, which will affect Canberra Residents.
Canberra Condo Land Bid – Watergardens and Commodore
There are another 2 condo land bid near Canberra MRT which have been awarded. Canberra Drive (Parcel A), The Commodore drew five bids, with the highest offer of nearly $129.20 million or about $644 per square foot per plot ratio (psf ppr) from Oasis Development, controlled by boutique developer JBE Holdings Group. The site can yield about 220 homes.
The Canberra Drive (Parcel B), Watergardens next door drew four bids, the highest from United Venture Development (2020), controlled by UOL Group, United Industrial Corporation and Kheng Leong Company. Their bid of $270.2 million works out to around $650 psf ppr. This site can yield about 455 homes.
Property consultants estimate that the selling prices of the two Canberra Drive parcels to be in the range of $1,300 psf average. At the bid price, both parcels should achieve breakeven at a cost of $1,140.
Both sites are close to the recently opened Canberra MRT Station on the North-South Line, and amenities such as Sembawang Shopping Centre and Canberra Plaza.
JTC Food Hub @ Senoko
How does a food hub sound? This seven-storey hub will gather all small and medium-sized food businesses in the same building so you can enjoy an array of yummy delicacies. JTC Food Hub @ Senoko is a 10-minute drive from Provence Residence EC.
Thomson-East Coast Line (TEL)
When the Thomson-East Coast Line (TEL) is fully constructed in 2024, you will be able to conveniently get to Outram Park and Marine Parade with shorter commute time periods.
Provence Residence EC Site plan
Here's an overview of Provence Residence EC before we take a closer look at the facilities this property offers.
Provence Residence has 53 Facilities as well as roof terraces.  Upon entering development, you will be wow with arrival court with cascading waster feature, inspired from Royal French Court. Provence Residence EC Residents can also look forward to the countryside garden to enjoy serenity and fragrant garden.
Provence Residence EC floor plans
Interestingly, Provence Residence EC floor plans has 3 bedroom to 4bedroom with many different layout to suit different family needs.
Provence Residence EC three-bedroom types
There are 7 different type of 3bedroom from C1 893 sqft to C7 1249sqft, which come with junior and master bedroom.
Provence Residence EC four-bedroom types
There are 2 types of 4bedroom layout both 130sqm
Provence EC Balance Units
Provence EC balance units check here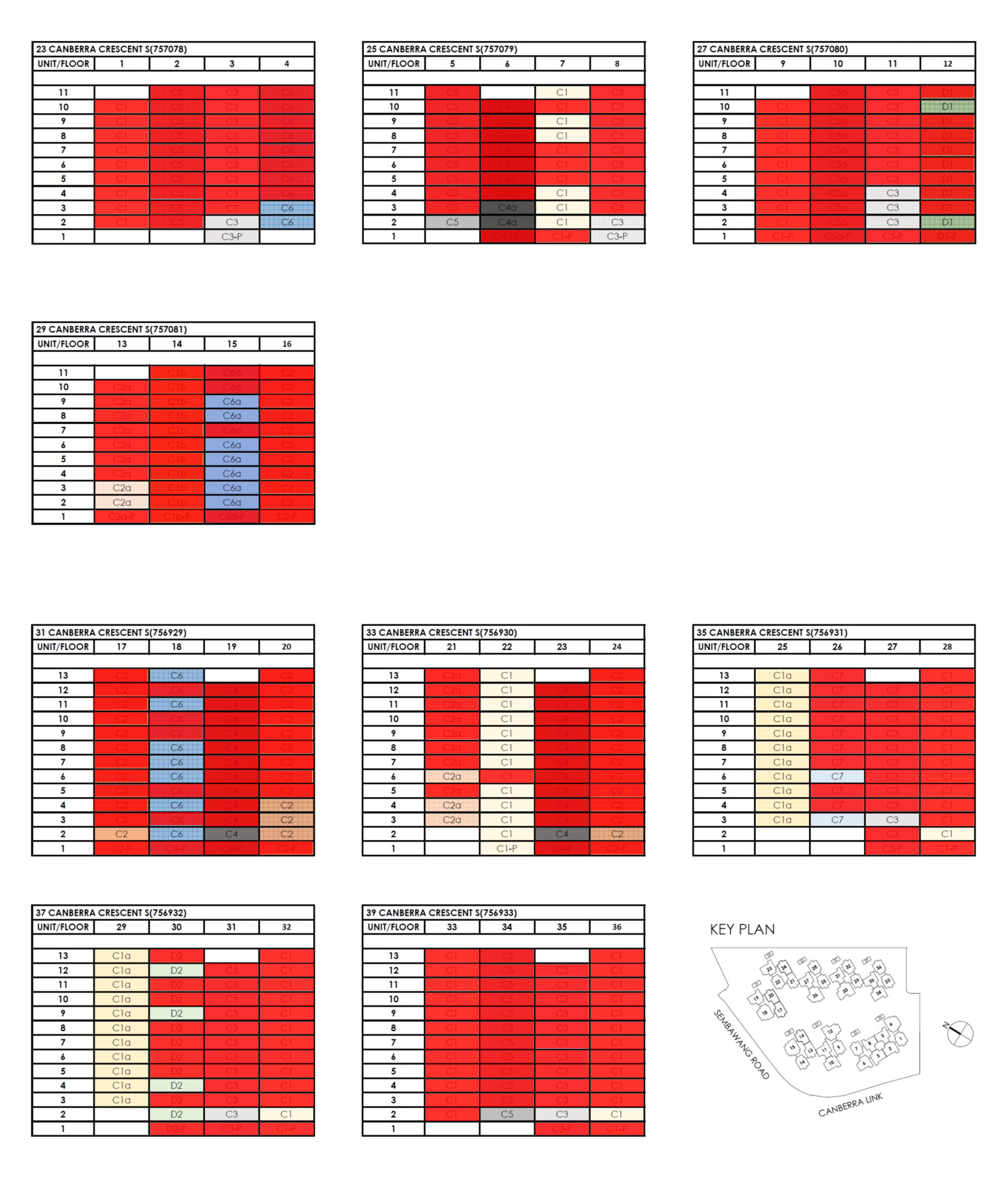 Provence EC cost per square feet (PSF)
The estimated price is around $1,150 per square feet (PSF).
Provence EC Pricing
Get in touch with us for the latest pricing and information today!
Provence Residence EC Showflat
The showroom for Provence Residence EC is situated near to the actual development along Canberra Link. Showflat is via appointment. Drop us a quick WhatsApp message to book an appointment with us.
3bedroom C1 883sqft
3 bedroom C6 1249sqft
4 bedroom D2 1399sqft
What you need to know about MCC developers
MCC  is the main driving force of China's iron and steel industry. As China's largest manufacturer of steel structures and one of the largest metallurgical contracting companies in the world, MCC Group has business operations in more than 90 countries. Currently listed in both Shanghai and Hong Kong Stock Exchanges, MCC has assets of 60 billion yuan (US $7.7 billion) in 70 subsidiaries either wholly owned or through joint partnership.
MCC Group is currently ranked 290th in the world's Fortune Global 500 and 10th in Engineering News Record's (ENR) Top 250 Global Contractors in 2015. Driven by new innovations and through an entrepreneurial spirit, MCC Group has accumulated a total of 16,241 patents, 54 State Science and Technology Prizes, and 667 national industry quality awards.
MCC Singapore, the South East Asian regional headquarters, is a wholly owned foreign subsidiary of MCC Group. It engages in real estate development, project management, turnkey projects and specialised contracting of structural steel works in Singapore. In recent years, MCC Singapore has attained remarkable achievements and breakthroughs in the fields of structural steel works, large-scale integrated entertainment parks, real estate development and project management and public infrastructure projects etc. The company has been conferred the "Top 10 Successful Chinese enterprises entering ASEAN" award for third consecutive year by China Asean Business Council (CABC).
MCC Singapore comprises five core business groups, namely, real estate development, construction, civil engineering and infrastructure, special steel structure projects, across these companies respectively : MCC Land (Singapore) Limited, China Jingye Engineering Corporation Limited (Singapore Branch), China Jingye Construction Engineering (Singapore) Private Limited and MCC Bina Sdn Bhd.
OTHER ECs
If you would like to explore all ECs, Piermont Grand EC , OLA EC or Parc Canberra EC which are existing EC, and upcoming EC, you can bookmark or subscribe your interest and we would inform you and send u first hand info once out from oven.  The 1st EC that would be launching in 2021, would be Parc Central Residences EC in Tampines follow by Provence Residence EC in Canberra and last one would be Fernvale EC. Register your interest now
FAQs
Is this a detailed analysis of MCC Canberra EC?
Yes! You can expect to find a range of important information pertaining to the development.
Do you have the site plan?
We have both the site and floor plans in this article.
Where is MCC Canberra EC located?
It is located along Canberra Link.